John Porter (– 2011) was a former SAS operative. He was killed in 2011 by Latif.
Biography
Edit
Military service
Edit
In 2002, five year veteran, Sergeant Porter encountered United States Army Delta Force soldier Damien Scott in Afghanistan. The two coordinated with a rebel leader named Latif and therefore were the only ones in their respective armed forces able to identify him.
On March 18, 2003, a day before the Invasion of Iraq, Porter received a deck of playing cards with enemy faces on them. On the same day, he was briefed on a mission of which he was put in command in.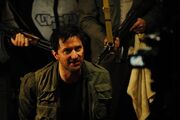 In 2011, Porter was captured by the terrorist Latif, who webcast messages read by Porter to his supervisors in the Section. Porter realized he had been sold out by someone in the Section and managed to encode a message within outbursts during his final webcast using a code known only to Damien Scott.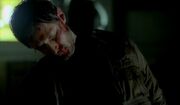 At the end of the webcast, he was executed by a disguised Latif with a gunshot to the head as those who knew him watched helplessly. They were deeply saddened and shared a drink in his honor. John's captors exited the room, leaving his body in the chair he was bound to.
During his execution, John left a code that only he and Damien Scott knew. John Porter was aware of an enemy within Section 20 and thus could only trust an outside ally. Scott cracked the code and provided Section 20 with Intel that helped them on their mission to find Latif.
Behind the Scenes
Edit
John Porter was portrayed by Richard Armitage in Strike Back: Origins and Strike Back: Project Dawn.
Appearances
Edit
Season 2: Project Dawn
Episode 1
Episode 2
Episode 3
Episode 4
Episode 5
Episode 6
Episode 7
Episode 8
Episode 9
Episode 10